It's that time of the year kids.
Christmas card prep.
My sister just bulldozed my day today by even mentioning working on Christmas cards and I decided to get in the hunt too.
Last year, I ordered my cards from (shhh) Walgreens. Don't hate on it.
They have an agreement with Snapfish and their print quality is pretty decent. Not great. But you have your prints in an hour AND you can get a ton of coupons online to make it really cheap.
So this year, I checked out Walgreens.com and I hated the cards. Like hated them.
Then I went to Snapfish.com.
Uploaded some pictures. I was happy. Here is a preview.
I made it ALL the way to check out.
The selection was way better. But WAY more expensive.
But instead of just printing on photo paper, I would be printing on stationary cards which is definitely a nice upgrade.
Plus, they are tied in with Boxtops for Education. So money I spend there, goes to my son's school. (for the record-I checked back in and Snapfish has a deal with boxtopsforeducation.com as well and they give MORE money per $10 spent. So now I feel like a jerk. But here we are.)
ALSO, I used these codes:
SHIP30 (free shipping on items over $30)
FATWALLET5 (25% off entire order)
the 25% off expires on Nov. 17, so if you are going to order, you should do it ASAP.
All that involved, saved about $45 but still spent more money than at Snapfish. But I am SURE that I am going to be way happier with my cards because seriously take a look at this: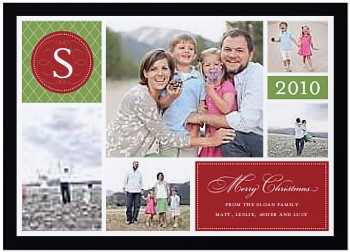 With Love Chartreuse Christmas Card
This card is WAY better looking.
For other fun ideas, go check out these links at Shutterfly: